System integrator "Webzavod", as a part of a group from ministry of Education and Science of Russian Federation, has submitted several projects in the biggest worldwide exhibition of information technology, telecommunication and IT solutions - CeBIT 2013.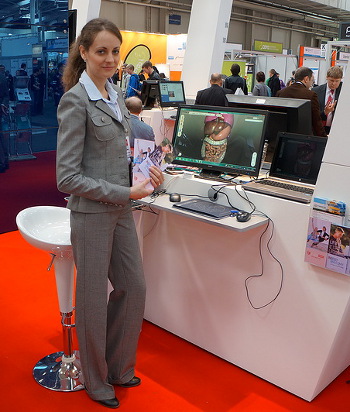 The company brought four projects to CeBIT:
- Telemetry ( Flow risk system)
- Virtual surgeon
- Webzavod Cloud
- 3D Atlas
The Flourisk system was developed for early diagnostics of cardiovascular diseases. The complex allows conducting examination at distance, including:
- Medical questionnaire, that meet European certification criteria of cardiovascular diseases risk;
- Medical examination;
- Laser Doppler Flowmetry (LDF) method – a noninvasive way for an assessment of blood microcirculation.
This hardware and software complex allows collecting human life and activities characteristic's distantly, transfer and analyze them. The project is realizing jointly with Samara State Medical University.
"Virtual Surgeon" was developed for 3D modeling of a surgical process and surgeons' trainings in techniques of endovascular and endoscopic surgery.
The complex is universal and can be applied for practicing on basic skills and for learning techniques of operations, including tactics during possible complications.
Software of an exercise machine allows receiving and processing of control actions from the trainee via manipulators and other elements of the interface. Complex's software is realized with using modern technologies of 3D modeling.
Webzavod Cloud is a solution which allow to rent virtual servers and infrastructure components out to individuals and various companies.
WZ Cloud provides the following services:
- Creating, launching, reloading, stopping and deleting (removing) virtual servers. Changing of physical parameters of servers;
- Tariffing of provided services and monitoring the user's financial status in billing of the service provider (for telecom providers);
- Possibility to access the created servers via VPN;
- Monitoring of virtual servers load and notifications of customers;
- Managing additional services;
- Software rent.
3D Atlas is the map of the normal and pathological anatomy of a human body. All the objects are done in a 3D format with topographic and anatomical relations of organs.
3D Atlas is an interactive product created for medical students and doctors. It is used on courses such as topographic and pathological anatomy, surgery and forensic examination etc. The atlas is addressed to university students and teachers, interns and practitioners.
CeBIT is a leading international exhibition of information technologies, which is carried out since 1986. This year the exhibition took place from 5th to 9th of March.